Matt's Completely Correct Selection of the NHL's Best Fighting Goaltenders
Regardless of whether hockey purists and traditionalists want to hear it, there are a lot of fans that show up to a hockey game for the fights. While the prevalence of fighting has been on the decline in recent years, there are still few things more exciting than a goalie fight.
So, let's talk about the best fighting goalies.
Patrick Lalime
Patrick Lalime broke into the National Hockey League back in the 1996-97 season with the Pittsburgh Penguins. As his career went on, he had stints in St. Louis, Chicago, and Buffalo, but he's probably best known for his time with the Ottawa Senators. It was in Canada's capital city where Lalime would have a pair of fights. His first was in the 2001-02 season in a game against the Boston Bruins where he took on Bruins' net minder Byron Dafoe. But, easily the biggest fight in Lalime's career took place on March 5, 2004
against the Philadelphia Flyers
. After there had already been several line brawls in the game, Flyers' goalie Robert Esche became involved in a fight near his net. Lalime then left his crease and joined in the fun. This particular game ended up setting the record for the most penalty minutes assessed to two teams in a single game.
(Bonus points go to Lalime for his Marvin the Martian masks.)
Patrick Roy
It's no secret that Patrick Roy has a bit of a temper, I mean just take a look at what happened in his
first game as an NHL head coach
. So, you'd better believe that in his playing days, Roy, a three-time Stanley Cup Champion, could be nasty. Roy fought Boston's Randy Burridge in 1987 while he was a member of the Montreal Canadians. After leaving the Habs in a trade to the Colorado Avalanche, Roy would have his more memorable fights in his career. He seemed to have a real beef with the Detroit Red Wings, fighting twice in back to back-to-back seasons against them (on a related note, do yourself a favor and watch some videos of Avalanche-Red Wings games from the late 90's and early 2000's. A bit of a forgotten rivalry, but a great one nonetheless). Roy took on
Mike Vernon in 1997
, and
Chris Osgood in 1998
.
Brent Johnson
A bit of a surprise pick, Brent Johnson didn't really have the career numbers that some of the other goalies I've mentioned had, but he still had some degree of success in the NHL with the St. Louis Blues and Washington Capitals, but it's his time in Pittsburgh, his last stop in his NHL career that lands him on the list.
More specifically the time he literally broke Rick DiPietro's face
. This lead to a second fight against the Islanders one week later
Ron Hextall
When one thinks of tough goalies, it's impossible to not think of Ron Hextall. The man was a
goal-scoring
, punch throwing machine. He was the first goalie who doubled as an enforcer, as evidenced here by the time he
jumped Chris Chelios in Game 6 of the 1989 Wales Conference finals
. Hextall would claim that this was retribution for a Chelios elbow that knocked out the Flyers' Brian Propp. This beating earned ol' #27 a twelve game suspension. TWELVE. GAMES. Hextall was the original goalie who wasn't afraid to chuck some knucks.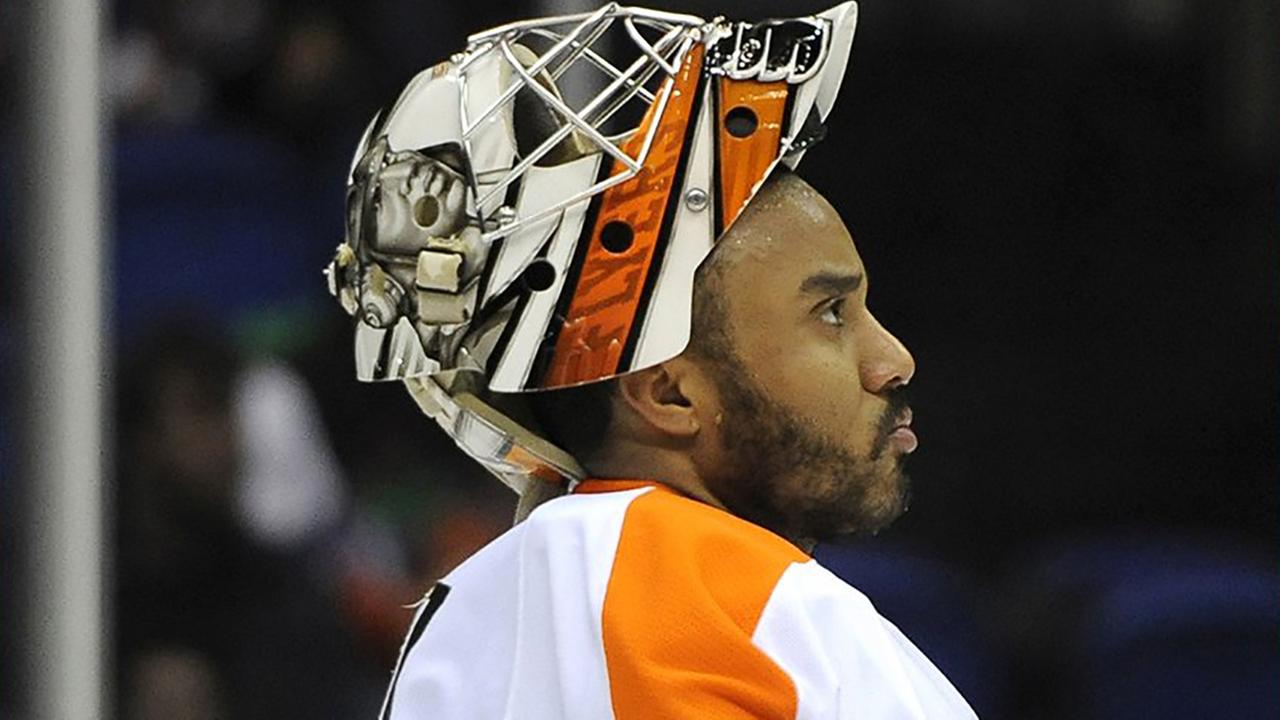 Ray Emery
But, if Hextall was the original, I'd say that Ray Emery was maybe the best example of a fighting goalie. The man was mean, and probably the best fighter to ever strap on a pair of pads. Emery even put boxers on his mask including Muhammed Ali, Mike Tyson, Joe Frazier, and Rocky Balboa. He famously laid an
unholy beat down on the Capitals' Braden Holtby
. Razor caught a lot of flack from critics who said that he shouldn't have gone after Holtby because the Caps' netminder wasn't interested in fighting. I think he just didn't want to square up with the likes of Ray Emery.
However, Emery wasn't just a good fighter. Razor had a hand in leading three different teams to the Stanley Cup finals: The 2006-07 Ottawa Senators, the 2009-2010 Philadelphia Flyers, and 2012-13 Chicago Blackhawks. With the Blackhawks he would win a Stanley Cup and even placed seventh in Vezina Trophy voting despite being the backup to Corey Crawford.